version 1.1
Introduction
Welcome! BShisen is a wholesome, fun, and addictive strategy game pitting you against yourself and the clock. It is similar in some aspects to Mah Jongg (Shanghai), but it can't really be compared to any other game.
---
Overview
BShisen is played with a variably-sized board and up to 36 different tiles. The object of the game is to remove all tiles in a minimum amount of time. Matching tiles can be removed if they can be connected in three (3) or fewer lines.
Lines may be horizontal or vertical, but not diagonal.
Lines may pass through any white space (including the space around the board), but not through other tiles.
The best way to learn how to play is by making use of the "Suggest Move" (Alt-G) menu item, which will hilite two (2) connectable tiles. Tiles are selected (and removed) by clicking on them.



Connecting adjacent tiles

| | |
| --- | --- |
| Before | After |
| | |
Connecting non-adjacent tiles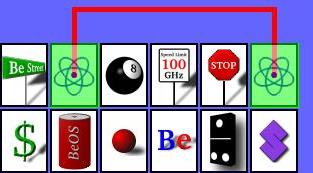 The game is over when either all tiles are removed or no more moves are possible. Not all games are winnable. Furthermore, even winnable games can be made unwinnable based on the order in which tiles are removed. Games are numbered, and there are approximately 4294967294 different tile arrangements available.
---
Menu Items
File

New Game

Abandons the current game and starts a new game with a random ID.

Restart Game

Restarts the current game.

New Game By ID

Closes the current game and prompts for the ID of the game to play.

About BShisen

Shows information about which version of BShisen you are playing, et cetera.

Quit

Edit

Undo

Undoes the last removal. Every removal is recorded, so you could undo every previous move, if you wanted to.

Game

Suggest Move

Shows a possible move (if one exists) by hilighting the tiles. Although this is useful when you are stuck or learning how to play, a 30 second penalty is added to your score every time this option is selected.

Size

Selects the board size. Current board sizes are:

14 x 6
18 x 8
24 x 12
28 x 16
32 x 20

18 x 8 or 14 x 6 is the default size, depending on your screen real estate. A large monitor is recommended for the larger size boards :-)

Hall Of Fame

Shows a list of the 5 best times for each board size, as well as some other information.

Sound

Enables or disables sounds. Sound is on by default (BeOS is a media OS, after all).

Preferences

Configures various preferences.

Background

Configures the background color, the background picture, and if the background picture is centered or tiled. Please note that the preferred way of setting the background picture is not by typing its name into the Preferences window, but by dragging a picture from Tracker onto the BShisen window. The Preferences window is the only way to remove a background picture, though.

Sounds

Allows you to set the sounds BShisen plays when a connection is made, or when a connection can't be made. To set the sounds, drag a valid sound file from Tracker onto the Preferences window, somewhere in the proper box. If the sound is valid, it will be played. Although there is no limit on the size or length of the sounds you can use, excessively long sounds will probably be annoying after a while. :-)

Pause

Pauses a game, stopping the clock and hiding the BShisen window to discourage cheating.
---
Miscellaneous Tips
The BShisen window responds to color drops by changing the background color.
The BShisen window responds to graphic files dragged from Tracker by setting the background image.
If the BShisen window is minimized, hidden, or in a different workspace, the timer is paused.
---
Copyright
BShisen is copyright © 1998-2001 Kelvin W Sherlock. All rights reserved.

Now, for the lawyerly crap:

The Software is provided on an "AS IS" basis, without warranty of any kind, including without limitation the warranties of merchantability, fitness for a particular purpose and non-infringement. The entire risk as to the quality and performance of the Software is borne by you. SOME STATES DO NOT ALLOW EXCLUSIONS OF AN IMPLIED WARRANTY, SO THIS DISCLAIMER MAY NOT APPLY TO YOU AND YOU MAY HAVE OTHER LEGAL RIGHTS THAT VARY FROM STATE TO STATE OR BY JURISDICTION.

IN NO EVENT WILL KELVIN SHERLOCK BE LIABLE FOR ANY DIRECT, CONSEQUENTIAL OR INCIDENTAL DAMAGES ( INCLUDING, BUT NOT LIMITED TO DAMAGES FOR LOSS OF BUSINESS PROFITS, LOSS OF INFORMATION, COMPUTER FAILURE OR MALFUNCTION, OR USE ), EVEN IF KELVIN SHERLOCK HAS BEEN ADVISED OF THE POSSIBILITY OF SUCH DAMAGES. SOME STATES DO NOT ALLOW THE EXCLUSION OR LIMITATION OF LIABILITY FOR CONSEQUENTIAL OR INCIDENTAL DAMAGES, SO THE ABOVE LIMITATION OR EXCLUSION MAY NOT APPLY TO YOU.
---
Bugs
That said, BShisen has been tested extensively and should be mostly bug-free. If you do find a bug, though, I will either fix it or ignore it :-). Send all bug reports, complaints, giant cash offers, marriage proposals, job offers, et cetera to kelvin@xbar.org.